| | |
| --- | --- |
| Version | Chords, Sheet Music |
| Download | 54 |
| Total Views | 503 |
| Stock | ∞ |
| File Size | 265.30 KB |
| File Type | |
| Create Date | October 15, 2021 |
| Last Updated | January 13, 2022 |
Download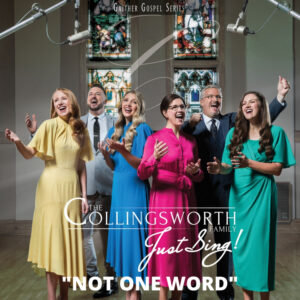 Information: "Not One Word" was originally recorded and made popular by The Collingsworth Family (Produced by Bradley Knight of Brooklyn Tabernacle Choir). This song is a great selection for worship teams, choirs and churches confirming that God's Word is still true. Available in PDFs of chords/lyrics and SATB sheet music / choral arrangement.
Original Key: F# - G
BPM: 72
CCLI Song Number: 7178068
Writers: Jeff Steele, Brad Steele, John Mathis Jr.
Publishers: ChrisKay Music/BMI, Avid Group Publishing/BMI
Review audio on YouTube: "Not One Word"
Review audio on Spotify: "Not One Word"
(Click the DOWNLOAD button at the top, for  PDF's of Chords and Lyrics and the SATB Arrangement)
Not One Word PDFs - Chords and SATB arrangement
"Not One Word" chords and lyrics, Collingsworth Family lyrics, worship chords, choir chords, church worship chords, Collingsworth Family chords, Collingsworth Family lyrics, "Not One Word" chords, "Not One Word" lyrics, SATB arrangement, choral arrangement, Singing News Top 20, sheet music